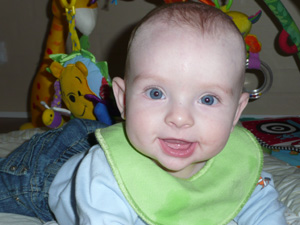 Can not belive that Marius is already 5 months… And have started to eat solid food… he started on saturday, the day before he turned 5 months. We went to the doctor on friday so Marius could get his 2nd vaccine and get a health check… Every thing was looked good except that the doctor said that he has move down on the weight scale and is now below average, he was not under weight but the thought it would be good to start on the solid food, but I was also planing on starting when he turned 5 months. His weight is now 7090g (15.63lb)  and 68cm (26,77inch).
We started giving Marius mush (not sure if you call it that) made from Risflour, and he likes that, he is already eating 1/4 of a potion and he has done that since the 2nd day he got it, so that is pretty good I think. We taped the his first meal and will put it under videos soon.
He is learning so muce just in the last two weeks, he has learned to roll from his back to his stomach but not the other way… So when he get tired we turn him to his back but as soon as put him there he turnes to his stomace again and get upset because he get tired… A fun game… 🙂 He has started to pull his legs up under his butt and is kicking a lot when he lays there so can rotate when he is on his stomach. He can grap his feet with his fingers and put them in his mouth. He can take a toy from on hand to the other. Grab toys when they with one hand when they are on the side of him. He sits well, but does not have the balance yet. All this he has learned with in a few weeks. It is so fun to see him learn new stuff, when he first learn it he does it over and over again. Oh and his hair is turning blond… or atleast ligher than it use to be… So maybe he will get my hair color after all…  
Mikkel is vacation is commin up next week and the following 2 weeks, I am looking so much forward to that. This weekend we are going to my uncles Summercabinet on the Westcoast, this is the first overnight stay that Marius is going to have… But we will bring his Big Stroller that he sleeps in doing the day, so he has a familier place to sleep at night. My mom, dad, 2 uncles, 2 cusines are also going to be in the summercabinet so that is going to be nice.
The weekend after we are going to Mikkels Parents sommercabinet in Northern Jutland, and this is close to where my brother lives so we are going to spend some time with them. I am not sure yet if some of Mikkels family are going to be in the summer cabinet yet.
The weather here has not been nice the last couble of weeks, we had a few days with nice summerweather but it is mostly cloudy and around 15C (60F) most days and we get some heavy rainshowers… So we hope the weather will be better when Mikkels vacation starts.